A true style sophisticate, the Chesterfield sofa has made its appearance in upscale clubs, Victorian homes, and more for centuries; today, they fit just as well into wood-paneled libraries as they do in downtown studio apartments. This Chesterfield-inspired chair adds a stylish look to almost any room.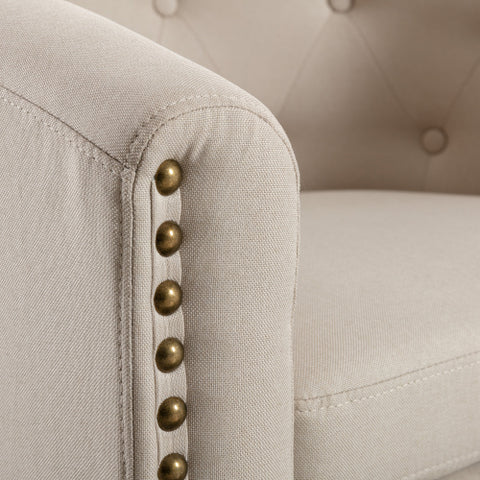 Package Size
| | |
| --- | --- |
| Length (in.) | 29.53 |
| Width (in.) | 25.59 |
| Height (in.) | 23.03 |
| Weight (lbs) | 29.76 |
local Warehouse : 5 - 12 working days Free Shipping
Please kindly note that we are unable to give an assurance of the precise delivery dates for our orders. However, we provide estimated delivery in line with warehouse locations, stock levels, and expected shipping routes. We always give you a tracking number and keep an eye on the real-time shipping information.
Can I cancel my order?
Yes, as long as the item's not been dispatched. you can contact us and we'll cancel it and give you a full refund. It's as easy as that.

Cancellations made after dispatch – just refuse the delivery, or contact us within 30 days. Once you've notified us, we'll let you know how to return it, or arrange for a collection. Once it gets back to us, you'll receive a full refund.


What if I don't like what I ordered?
You have 30 days from receiving your order in which to return it, just contact us, and we'll let you know how to return it, or arrange for a collection. Once it gets back to us, we'll refund you.

For non-faulty returns we ask that
1. You keep the original packaging.
2. The goods are returned in their original condition
3. You've got in touch with us to process your return within 30 days of your Payment Confirmation
Once we've received your returned products and we're happy with their condition then we'll process your refund for those products.


What if the item's damaged when it arrives, or I was sent the wrong item?
It's important that you inspect your order on delivery. If we've missed something or sent you the wrong thing, just let us know within 30 days. It really helps if you send us a few photos of the damage or any other issues. Our team will assess your complaint and let you know how to return the item, or arrange for a collection. We'll either give you a full refund, or order you a replacement.
So that we can collect it, the product needs to be disassembled and repackaged.


How much do returns cost?
If you need to return an item because it's faulty, or because of something we've done wrong, we won't charge you for the return/collection. But if you're returning an item because you've changed your mind, you'll need to pay the cost.